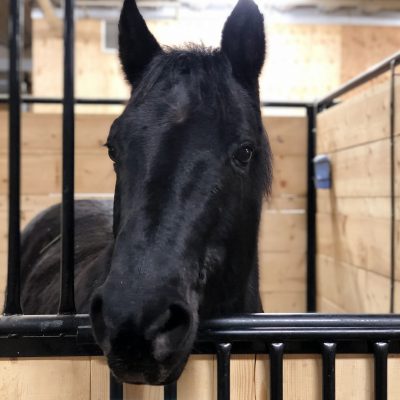 Ace
Ace

Ace has been a PARDS Equine team member working in the program since 2016. Ace is an 18 year old quarter horse and was kindly donated by Daylce Sather McNabb.
Ace is a nice solid quarter horse with three even gaits, the perfect amount of belly swing to mimic the human walk and a great height for side walkers to comfortably support their riders. He is sweet, has exceptional ground manners and kind eyes; all qualities required to make it onto the team. But he was nervous when he first arrived at PARDS….
To be honest in the beginning we were not entirely sure Ace was going to be a good fit in the program, but there was something special about him, so we decided to give him some extra time.
Fast forward to today and Ace has won over the hearts of so many riders, volunteers and staff. He's our go to guy for everyone from riders with leaders and side-walkers, to beginner independent riders, to the more advanced looking to really challenge their riding abilities or taking part in the Para Equestrian Video Competitions series.
He takes care of all his riders that he carries in the arena or on the trails. He plants those hooves and doesn't budge while riders take the time they need to mount and dismount. He'll walk slow and steady while his rider warms up, stretching their muscles and then march on gently, moving to engage the riders hips to the utmost to build overall strength. His trot will bounce the younger rider around for fun and joy and challenge others to learn rhythm, balance and leg strength. His canter, well… just remember heels down, half halt and hang on!