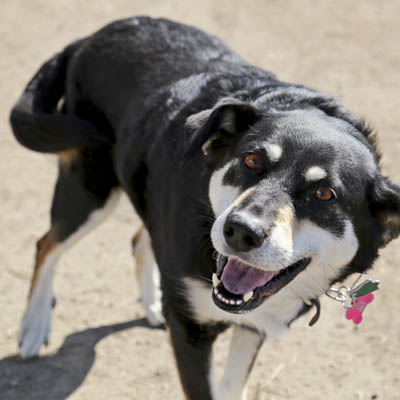 Jade
"Feeling a furry body climb into your lap, running your fingers through soft fur and possibly receive loving licks on your hand or face, is one of the most comforting feelings imaginable.
The average domestic dog or cat can provide an array of mental and physical health benefits. Dogs particularly can ease loneliness, reduce stress, anxiety, and depression, promote social interaction, encourage exercise and playfulness, and provide unconditional love and affection. It only takes a few minutes with a cat or dog to feel less anxious and less stressed. Your body actually goes through physical changes in that time that makes a difference to your mood. The level of cortisol, a hormone associated with stress is lowered. And the production of serotonin, a chemical associated with well-being is increased. Children with autism may especially benefit from interacting with animals, which can provide unconditional, nonjudgmental love and companionship."
Meet Jade, a 6 year old mix of Lab and Border Collie. Jade belongs to Jennifer Douglas, Executive Director of PARDS. Jade comes to work each day and for some of our riders, volunteers and visitors, has become an important part of their time here at PARDS. We have riders that, the moment they walk through the door; ask, "Where's Jade?" and go on a search, often finding her curled up on her bed. Other times she comes running to greet the familiar voices, knowing there will be some welcomed attention. Her sensitivity keeps her somewhat shy around some, but seems to innately sense the innocence of children. Jade enjoys the freedom of the facility grounds but has learned the boundaries of where she can and can't go. If not curled up on her bed you can usually find her laying outside in the sun or standing by the front door scratching to l be let in, but only long enough to see if she is missing anything and back out she goes!
NOTE: Therapeutic benefits information used permission of CanTRA – the Canadian Therapeutic Riding Association.